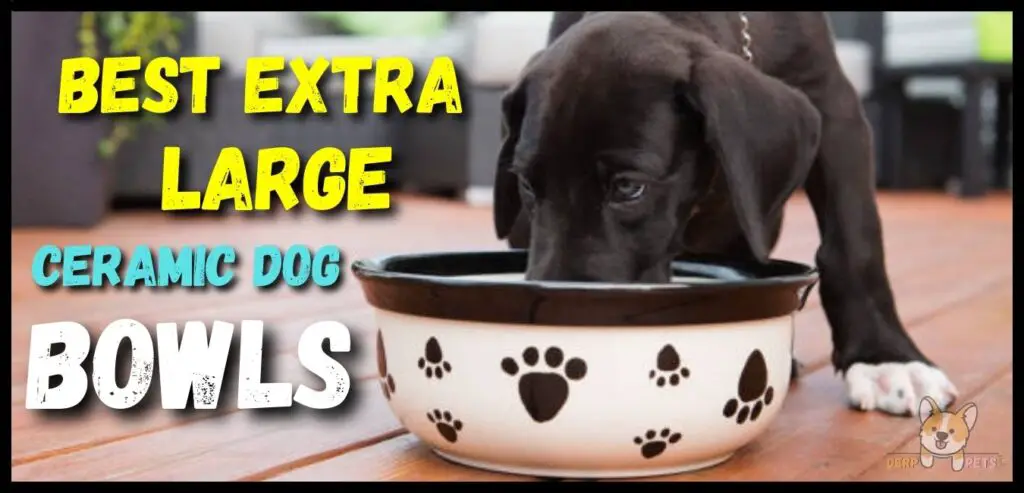 Buying extra large ceramic dog bowls for large breeds is a great choice, as these breeds can be messy eaters most of the time, where these heavyweight large ceramic bowls work like a charm.
I know what are you thinking now… what if it breaks? Believe me! I also have 6-ceramic dog bowls since 2015; all of them are still in one piece without even a single crack and chip. 
But of course, finding the right extra large ceramic dog bowls is the key because there are plenty of high and low-quality ceramic dog bowls available!
To make it easy for you… I only mentioned the best quality, durable, and affordable price tag bowls. 
Below listed extra large ceramic dog bowls are genuinely great; in terms of hygiene, sturdiness, safety, plus during dog-proofing a home.
In this article, I have also compiled some of the most necessary points about dog bowls that you must read to get some extra knowledge about ceramic dog bowls. 
And if you want to keep your dog cool in this hot summer, here are the top 10 best ideas to keep a dog cool inside the house.
Here, the Best extra large ceramic dog bowls for you to consider 
Bone Dry Lattice Collection dog Bowl 
This Bone Dry Non-Skid Porcelain Ceramic Pet Bowl is suitable for food and water. Available in various designs and sizes. The bowl is conveniently dishwasher safe, so it can-be-easily-cleaned. No Fuss!
The non-skid silicone rim at the bottom will keep your pet's bowl from sliding around on the floor and help keep the bowl upright. No, untidy floors to clean anymore.
Bowl's stylish and simple design will blend in with any décor in your home or kitchen.
Plus, this ceramic dog bowl is FDA food safe; and California Prop 65 compliant. And, the bowls also microwave safe.
These extra large ceramic dog bowls are available in fun designs that include lattice, paw print stripe, patriotic, marble, and hungry & thirsty. A Great Feeding Solution You And Your Pet Will Love!
Last longer
Easy to clean
FDA food safe
Sturdy and Durable
Ethical 9-1/2-Inch Stoneware Crock Dog Dish
This Ethical extra large stoneware dog bowl is made of heavyweight ceramic that eliminates movement and spillage during mealtime to ensure happy and comfortable eating every time.
The bowl is sturdy and vast enough for outdoor feeding and watering as well.
Its smooth surface is always effortless to keep clean, even only with water, and its stylish and simple design fits any home decor.
Plus, the Ethical heavyweight extra large dog bowl is a 100% stoneware dog bowl, dishwasher, and microwave safe.
Durable
Heavy base
Easy to clean
Stylish and simple design
BestVida Sparks extra large ceramic dog bowls with stand
The natural look of this high-quality glazed stoneware bowl stand promotes comfortable mealtime for your dog.
This stoneware bowl is 100% microwave and dishwasher safe. The sturdy stoneware bowl is easy to clean, water absorption resistant, and easy to maintain.
The elevated dog bowl stand is-handcrafted of wrought iron with a neutral antique powder-coated finish. This raised bowl stand promotes a healthy eating posture and wellness of your dog.
Each piece of this bowl set is-finished by hand with beautiful metalwork and glazed stoneware that bring styling and functionality to any room in your house.
Heavy and Durable
Elevated dog bowl stand
Premium glazed stoneware
High quality and well-made
Navaris Ceramic Elevated Bowls – Food and Water Bowl Set
This Navaris ceramic bowl set features two dishes and two raised bamboo holders, so your dog can enjoy eating and drinking from these bowls.
The bowls easily rest in their own elevated, elegant bamboo stands that raise the dishes closer to your pet to make eating-drinking easier and more comfortable for your dog. Use bowl set as one bowl for food and one for water, or as a twin feeding station for two dogs.
These ceramic bowls won't stain or transfer taste and are removable for easy cleaning. The bamboo and ceramic are sustainable which bring a stylish touch to your home.
Its elevated design is great for older dogs to reduce strain on their necks, shoulders, and joints.
They are also great for dogs with extra sensitive whiskers, excitable messy dogs who tend to knock over bowls.
Easy to clean 
Non-slip stands 
Reduce neck burden 
Beautiful modern looking
One for Pets The Kurve Raised Pet Bowl
This elegantly crafted and glazed ceramic Kurve Raised Dog Bowl is a fabulous bowl for your dog. The bowl comes in many colors, which are – classy and functional fits in with your home décor easily.
This dog bowl can be used for short eats or even treats as well. The bowl is heavy enough to avoid tipping or being pushed over by your dog for comfortable eating every time, even after years.
Plus, the bowl is dishwasher and microwavable safe, but only put it into the machine after removing the rubber stoppers on the bottom.
Easy to clean
Classy design
Heavy enough
Smooth edges
Waggo Sketched Wave Ceramic Dog Bowl 
This large Waggo dog bowl is perfect for any nautical dog who likes to keep it classy at mealtime. The bowl is 100% microwave and dishwasher safe for easy cleaning at any time.
And, it's smooth sailin' ahead with this ceramic dog bowl! This large dog bowl is great because it is so attractive and heavy enough not to slip around when your dogs eat.
On the other hand, its small wave design looks super cute and adorable, which blends in with your home décor smoothly.
Heavyweight
100% Ceramic
Microwave safe
Dishwasher safe 
Should We Go? Ceramic Dog Bowl: Modern Food + Water bowl for dog
"Should we go" dog bowl is very sturdy and durable, although it is microwave and dishwasher safe as well, so no wear and tear anymore for cleaning. The dog bowl looks elegant due to its marble design.
Plus, it's pretty heavy that your dog has to work so hard to tip it over. This ceramic dog bowl belongs in your house, especially if you are still using plastic bowls (icky chemicals!) because this ceramic dog bowl quality appears to be excellent.
Durable
Heavyweight
Easy to clean
Looks majestic
USA Custom Gifts Personalized Pet Bowl with Your Pet's Name
This USA custom gifts dog bowl is a 100% High-Quality Ceramic bowl which is sturdy and durable, that lasts longer.
The bowl is also dishwasher and microwave safe for easy cleanups. This glorious pet bowl is proudly crafted and elegantly produced by USA Custom Gifts in California, US.
The coolest thing about this bowl is you can easily customize your dog name on it for FREE by clicking "Customize Now" they will start to design your great-quality pet bowl with your pet name on it.
It is a perfect gift with your pet's name on a white ceramic bowl with marvelous designs.
Plus, the two sides of the bowl are customizable, which means you can customize with your logo or with your text as well.
Easy to clean
Free customization 
Sturdy and durable
High-quality Ceramic 
Chicago Flag Ceramic Dog Bowl
This sophisticated dog, Chicago flag ceramic dog bowl, is fun and functional for the Chicago-loving dog! The bowl adds one more exciting design to your robust product offerings.
The Chicago flag dog bowl is made of solid white ceramic and is a dense, heavy-duty bowl. Plus, it is also dishwasher safe for effortless cleaning.
Durable 
Heavyweight 
Easy to clean
Simple design
RAE DUNN BY MAGENTA Elongated Dog Bowl
This Rae Dunn's signature hand-written font dog bowl is the best bowl you'll be happy to see in your home.
The dog bowl is made only with 100% food-grade ceramic, you can feel good about feeding your dog from it, plus the dog bowls are chemical-free, California Prop 65 compliant and non-toxic to your dog.
This dog bowl is a perfect balance between a durable, heavy material and an elegant appearance. And the weight and the high walls of the bowl make it tip, skid, and spill-resistant, which means less cleanup for you.
It is incredibly effortless to clean: you can place your ceramic dog bowl in your dishwasher with confidence. Plus, for dogs with special dietary needs, this bowl is microwave safe, so you can safely heat your pet's food.
More durable
Different design available 
100% food-grade ceramic
Dishwasher & microwave safe
Some important things to know about ceramic dog bowls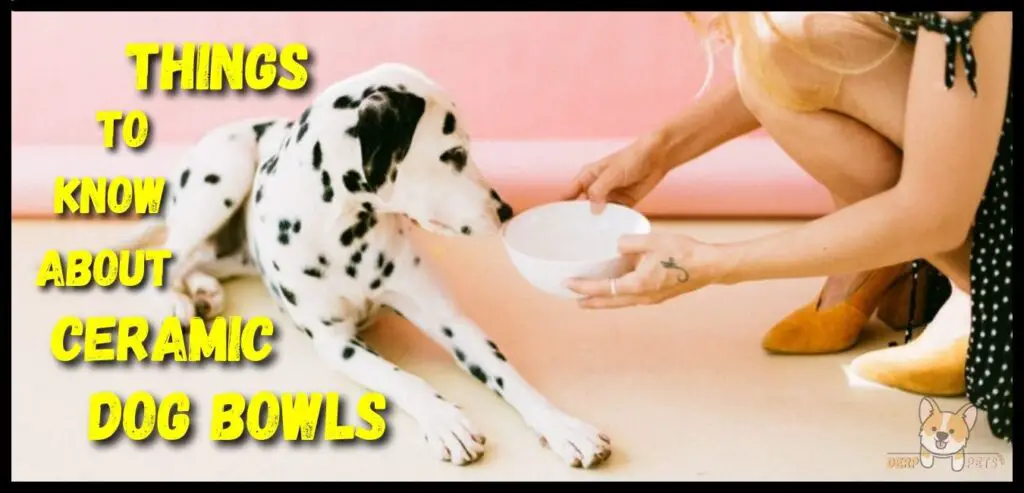 Dog Bowls Ceramic VS Stainless Steel 
There are plenty of things that make a big difference between both ceramic and stainless steel dog bowls, as mentioned below!
Ceramic dog bowls are heavier than stainless steel bowls, which helps reduce the slips or skids and less mess problem during mealtime.
Ceramic dog bowls can make cleaning and sanitization faster and more efficient than stainless steel ones, as the non-stick surface of the ceramic bowls allows them to keep the food residue from sticking onto them.  
Ceramic bowls are safer to be in contact with your dog's mouth regularly, as compared with stainless steel bowls because stainless steel bowls have additives in them, which may enter into your dog body along with the food and water that cause some health issues.
Ceramic bowls allow you to microwave your dog meal directly in the bowl without having to switch multiple plates and bowls. Stainless steel bowls have to transfer to different microwavable bowls to warm food. 
Ceramic bowls come in so many colors and designs, which means you can easily find one that matches your home décor and your dog's needs. Plus, you can even find hand-made ones. On the other hand, stainless steel bowls come in simple design and color.
Ceramic bowls won't be easily chewed or scratched by your dog as compared with stainless steel bowls.
Ceramic dog bowls feature exceptionally smooth, non-porous surfaces. Hence, they are less likely to harbor dangerous bacteria or food deposits compared with stainless steel bowls.
The proper pet supplies for your dog are essential for his health and happy life. That's where ceramic food and water bowls offer an excellent solution for your lovely pets because pets deserve the best.
How to keep dog bowls from sliding
Bowl skidding is not the problem, especially if you own ceramic bowls, as extra large ceramic dog bowls are heavy weighted with non-skid or slip surfaces!
This natural quality makes the ceramic dog bowls harder to flip over or skid across the different rooms.
And that is why almost 92% of dog owners prefer extra large ceramic dog bowls rather than any other material bowls to prevent their dogs from tip over their food bowls, for less mess with every mealtime.
On the other hand, if you own a plastic or steel dog bowl for your dog, you may see skidding issues, as these dog bowls are lighter in weight which is so easy for your dog to move the bowl around or tipped it over during mealtime.
And if you have slippery flooring like tiles, this is also a measure issue for bowl skidding.
For preventing this issue, there are some basic things that you can use to solve this skidding problem, such as a non-skid mat, non-skid rubber stopper, silicone base, non-skid rims, etc.
Non-skid mats: Use a non-skid mat (that available on amazon or use CLEAN doormat) and place it under the dog bowl to resolve the issue. 
Non-skid rubber stopper: Attach one or two non-skid rubber stoppers under the dog bowl bottom to resolve the issue. 
Silicone base: Use silicone base as a mat and place it under the dog bowl to resolve the skidding issue. 
Non-skid rims: Attach non-skid rings to the bottom sides of the dog bowl to resolve the issue. 
These are the cheap and the best way to resolve the skidding problems, but still better if you use extra large ceramic dog bowls, as these bowls are well-made and sturdy enough for daily use years after years.
Some Disadvantages of Ceramic Dog Bowl
Ceramic dog bowls are outstanding products to use without a doubt, but still, there are some drawbacks to it, which I mention here! You can also overcome these drawbacks if you correctly use them.
Nothing is unbreakable, and the same goes with extra large ceramic dog bowls its also breakable if you drop them hard on the floor, the bowl will turn into many pieces. To avoid bowl breaking, you have to place it on the ground level whenever you put food and water in it or clean it. 
Chip chip chip if you drop a ceramic bowl and it does not break, then there 80% chances that it chips, which is not safe for your dog, as your dog could easily hurt himself while eating from a chipped bowl. If tiny chip pieces of the bowl are leftover in the dog food, it can be hazardous for your dog if swallowed. If you drop the bowl, check it carefully before serving food and water in them.
If cracks form in your ceramic dog bowl, that means it's time to change it with a new one as leftover food residue in the crack bowl can create harmful bacteria and fungus in cracks, which is not safe for your dog's health. 
Almost 35% of the ceramic bowl companies use lead-based paint in the glaze, which is not safe for your dog if mixed with their food. That is why I only handpicked the FDA-approved and California Prop 65 compliant and non-toxic ceramic dog bowl for your loved one.
Ceramic bowls are less portable because of their weight which means you can not carry them whenever you're going out on vacation with your dog.
These are some main problems that may occur after purchasing your first ceramic dog bowl.
Advice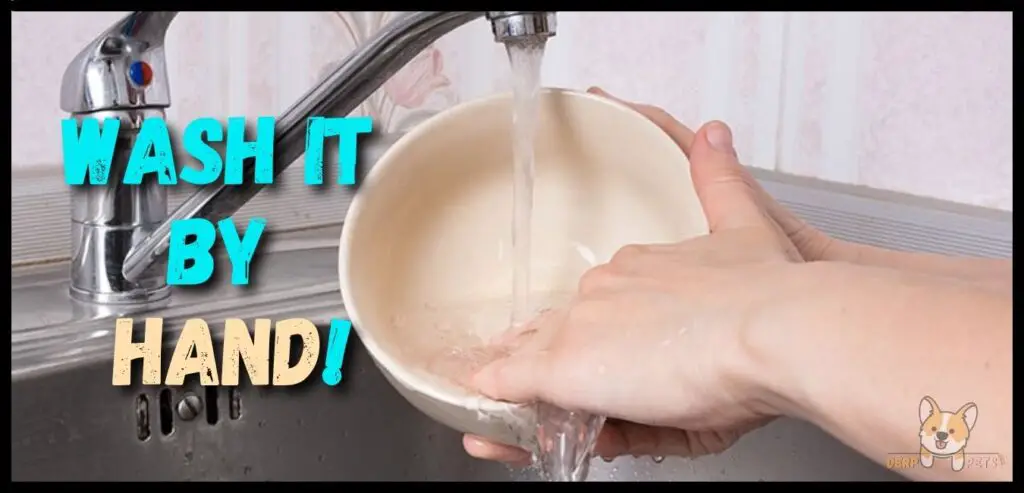 Wash it by hand! As I already mentioned above, these extra large ceramic dog bowls are microwave and dishwasher safe, meaning you can undoubtedly clean them with the rest of your dishes.
But still, I'll suggest you clean your ceramic dog bowl with your hands because the dishwasher's rapid temperature change and water pressure can cause microfractures in the ceramic bowl, which can lead to chipping and cracks that are not safe for your dog.
If you want your ceramic dog bowl to last as long as you want, you better wash it by hand.
The ceramic glaze makes the bowls easy to wipe down by hand in no time, so make sure to only hand-clean it. Extra large ceramic dog bowls are the best choice!
As I told you, I have also had 6-ceramic dog bowls since 2015, and all of them are still working pretty well with just a little care.
And if you want to purchase Best leash for German Shepherds, here is the 8 Best leash for German Shepherds Soft & Durable.
Frequently Asked Question
Q: How to clean slimy dog bowls?
Ans: To clean it, first, grab a good dish soap and a dedicated dog bowl sponge, now apply your dish soap to your sponge, and scrub your dog's bowl under hot water, wiping away any grease, slimy or leftover dog food. Rinse with cool, clean water, and dry. This hand cleaning process is excellent for a ceramic dog bowl! But if you have any other material dog bowls like plastic or stainless steel, you can directly place the bowls in the dishwasher to entirely disinfect the bowl. 
Q: What is the correct height elevated dog feeder?
Ans: You can quickly determine the perfect feeder height with the help of your dog's elevation from the top of the dog's front shoulder: Here is the quick chart:
For dogs 8-11 inches : Bowl high should be 4 inches
For dogs 12-15 inches : Bowl high should be 8 inches
For dogs 16-19 inches : Bowl high should be 12 inches
For dogs above 19 inches : Bowl high should be 16 inches
Q: What size water bowl for dog is best to use?
Ans: The dog water bowl size must be big enough to hold around 4 to 5 cups of water, which means almost a liter. Because dogs commonly drink 20 to 40 ml of water per pound of bodyweight weight every day, which means 3 to 4 cups of water for a 20-pound dog is required. The bowl that can hold around 4 to 5 cups of water is excellent for all breeds to keep them hydrated all day.
Q: Are ceramic dog bowls safe to use?
Ans: Yes, ceramic dog bowls are the safest dog bowl to buy because they come with a protective glaze coating which is dishwasher and microwave safe to use plus, they are heavier, so your dog couldn't move it anywhere. But still, ceramic bowls easily break if dropped and end up in chip or crack, which is unsafe for your dog, so keep in mind that always check your ceramic dog bowls before serving food and water in them.
Q: Washing dog bowl with same sponge that we use is safe?
Ans: No, it is not safe! Experts suggest not to use the same sponge that we use to clean our dishes as such sponge is already full of germs, that also carries micro-organism which is not suitable for your dog's health if used to clean food and water bowls. Better use a different NEW sponge or cloth and some soap along with a good rinse, which will get the bowls clean.