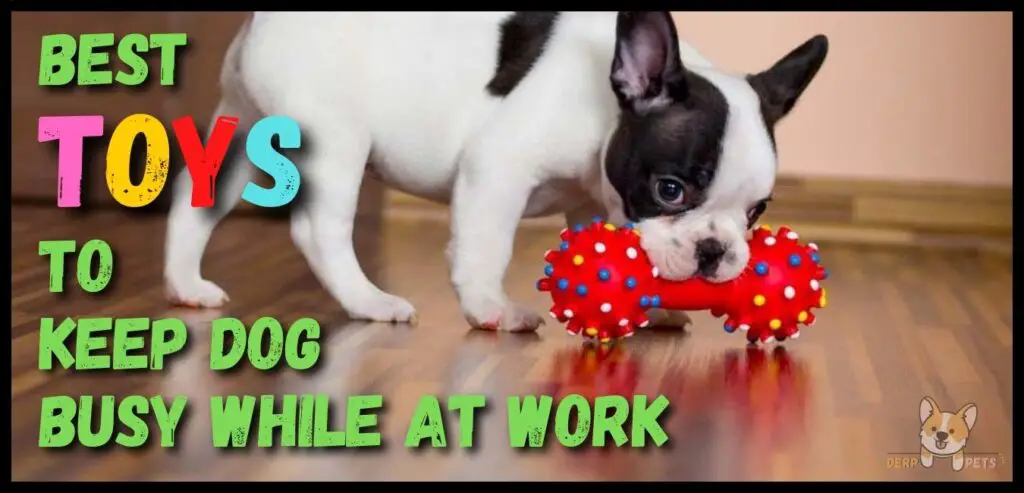 Being pet parents, you must be wondering how to find the best toys to keep dog busy while at work, but do you know not all dog toys are suitable for a dog, especially if your dog home alone because some toys can be hazardous to your lovely dog.
But don't worry about that, to make it easy for you, I've put together everything about how to entertain a dog home alone while at work, with some excellent self-entertaining dog toys and some simple boredom-busters tricks.
I have 8-dogs and some other pets as well, and I often leave them alone at home where these best toys and tricks work like a charm, which I mentioned below in this article.
But before you check those toys to keep dog busy while at work and boredom-busters tricks, you have to know what kind of toys are harmful to your dog so you'll not regret it later.
I've put together a list of some hazardous toys that you shouldn't give to your dogs when they are alone at home.
And if you want to keep your dog cool in this hot summer, here are the top 10 best ideas to keep a dog cool inside the house.
Toys that you shouldn't give to your dog when he is alone.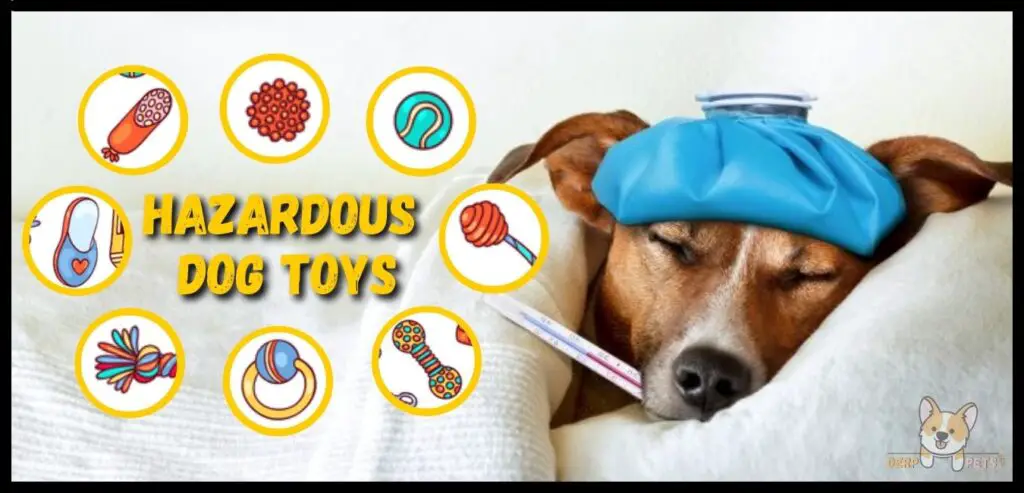 Below listed toy types can cause many health-related issues in your canine as these toys don't come with any warnings and safety labels which makes pet parents very confused about whether it's safe or unsafe to use.
So make sure you always keep your eyes on your dog whenever they play with these toys, and still better if you keep those toys away from your dog's reach when they are home alone.
Here is the list of 5 hazardous dog toy types
Stuffed Toys
These toys mostly come stuffed with Poly-Fil, which is very dangerous to your dog as Poly-Fil can get lodged in the throat and cause choking and even death.
Plus, if your dog completely swallows the poly filling, it can undoubtedly stop the digestive process and create the need for surgery to remove the blockage, where surviving chances are only 40% to 50%. So, it's better if not to buy dog toys that contain Poly-Fil stuffing.
Tiny Toys or Toys with small attachments
These rubber toys contain small plastic attachments inside to make them squeak (such as noisemakers) that can pose a high health risk to your dog, especially for small dogs and puppies. 
While playing with these toys, the dog will attempt to chew it up in order to get to the part out from the toy, which can end up choking them. Only allow your dogs to play with these toys under your supervision.
Tennis Balls and Dog Balls
These balls look safe, but they are not, especially for large dog breeds and aggressive chewers, as dogs have a chewing instinct, and because of that, these breeds can easily chew apart the ball in many pieces, plus the dog is likely to swallow those pieces, which can easily choke your dog.
If ball pieces don't choke on them, then the dog may develop an intestinal blockage and require surgery immediately. Hide those balls when the dog is home alone.  
Painted Toys
Experts recommend not to use any painted toys because these painted toys commonly come with harmful paint layers, which are toxic or poisonous for your dog.
These paint layers could easily be-chewed and swallowed, which may cause nausea, vomiting, illness, and some critical health-related issues in dogs as well in other pets.
Avoid painted toys as much as possible and use some unpainted toys, as it's better to be safe than sorry!
Toys made of Phthalate
Toys made of Phthalates material can be deadly to dogs as these toys can cause danger to the kidneys, liver, and other cell structures within your dog, which is risky because dogs use their mouths when they play with a toy.
As they drool on it, and they breathe in the fumes that are-put-out by these toys. And this means that it gets into the blood-stream where high concentrations over some time can cause illness.
Plus, these toys smell pretty strange, which your dog loves to chew down, so avoid these toys as much as possible.
Here's best toys to keep dog busy while at work
Outward Hound Nina Ottosson Interactive Puzzle Game Dog Toys
The Nina Ottosson Treat Tumble is the perfect and less pricey puzzle balls toys to keep dog busy while at work! It has four levels of treat-dispensing that will keep your dog intrigued as they roll the ball and sniff around to find ways to release the reward. Such as:
Level 1 – For Beginner
Level 2 – For Intermediate
Level 3 – For Advanced
Level 4 – For Expert
Plus, it has two treat-dispensing holes, which are very easy to fill as-well-as easy to wipe clean for outdoor and indoor fun! The toy is made with 100% food-safe BPA-free plastic.
Easy to clean
Durable structure
BPA, PVC & Phthalate-free
Best for indoor & outdoor activities 
Nylabone Power Chew Textured Dog Chew Ring Toy
This chew ring is made with tough, durable nylon with the perfect textured and unique shape, especially for a large dog and aggressive chewer.
The chew ring provides long-lasting enjoyment, which satisfies your dog's natural urge to chew, and encourages positive chewing habits.
Plus, the bristles raised during chewing promote clean teeth and help control plaque and tartar. Your dog is sure to love the delicious flavor medley of this chew toy.
Durable material
Irresistible flavor 
Highest-quality chew toy
Soothe teething and gums
Outward Hound Hide-A-Squirrel Squeaky Puzzle Plush Dog Toy
Outward Hound's hide and seek puzzle toys are the best toys to keep dog busy while at work. Because toy specially designed to eliminate boredom, encourage positive play, and feed your dog's natural hunting instincts, especially when you left your dog home alone.
Its 2-in-1 interactive play means double the fun with options to play fetch or hide and seek to keep your dog mentally stimulated. Plus, this dog toy is both cuddly soft and an interactive game!
Just stuff the trunk with Squirrels before going for work, then let your dog sniff and hunt for the Squeakin' Squirrel hiding inside. This toy is also compatible with a fun variety of refill animals.
Safe to play
Multiple styles available
Compatible with refill animals
Gentle on the teeth and gums 
KONG – Classic Dog Toy, Durable Natural Rubber- Fun to Chew
This KONG Classic is the gold standard of dog toys and has become the staple for dogs around-the-world for over forty years. The toy offers enrichment by helping satisfy dogs' instinctual needs!
Plus, KONG Classic's unique natural red rubber formula is ultra-durable with an erratic bounce ideal for dogs that like to chew while also fulfilling a dog's need to play.
You can easily extend playtime while stuffing this toy with tempting bits of kibble and entice with a dash of peanut butter. Add to the fun by adding KONG Snacks and topping with KONG Easy Treat.
(Note: always pick the bigger size than your dog's mouth)
Great For Stuffing
Easy to fill and clean
Made of safe material
Recommended by veterinarians and trainers 
ZippyPaws – Skinny Peltz No Stuffing Squeaky toy
These skinny Peltz are also the best toys to keep dog busy while at work as it has no-stuffing plush dog toys that provide hours of squeaking fun without the unnecessary need of cleaning up fuzzy stuffing mess!
This plush toy set includes 3-great characters that are kindly brought to life using the best quality materials that are durable and safe for your pets.
The fox, raccoon, and squirrel will keep boredom at bay by entertaining your doggo with their fun designs and enticing sounds in his lonely time.
ZippyPaws hand-select the perfect materials, especially for giving your dogs the best toys.
No Stuffing
Durable Material
101% Safe to use
Beautifully-designed
Our Pets IQ Treat Ball & IQ Treat Activity Dog Tug Toy 
This OurPets IQ Treat Ball is a fun alternative to slow-feed dog bowls that promote a healthy lifestyle for your pet at any time.
Just add your dog's favorite treats or kibble in the dog toy ball, only allowing them to eat what is dispensed from it when they roll the treat dispensing dog toy.
Plus, you can easily set this ball to the desired difficulty level using the ball's adjustable interior disc to keep your dog energetic all day long.
This food-dispensing dog toy promotes active feeding, which gives your dogs the exercise they need by themselves!
Durable 
Safe material 
Customizable 
Easy to use and clean 
Here is how to keep dog entertained while at work (Tips and Tricks)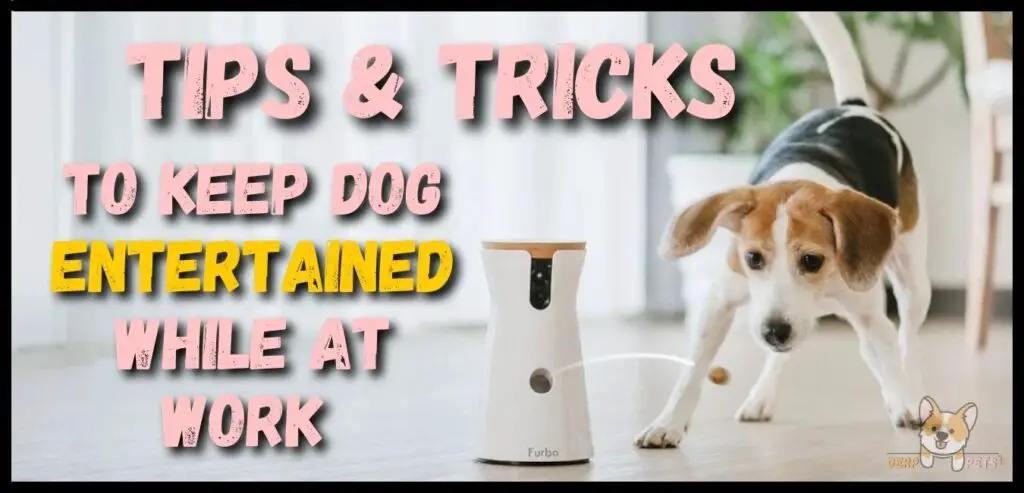 Choosing the best toys to keep dog busy while at work is an excellent choice that you can make. On the other hand, if toys aren't satisfying your dog, then you can also use some simple tricks to keep them entertained while at work.
I've mentioned some of the most common and easy tips and tricks that you can use to make your dog entertained while at work.
Create a safe and entertaining zone
Making a safe place for them is the best thing that you can ever provide to your loved one because a safe zone makes you less concerned while at work, so you'll not worry about your dog getting into trouble.
To create a safe area, apply some Corner Guards on your furniture and as-well-as place all dangerous things like small toys, other small pieces of anything, and harmful plants out of the reach of your dog. Plus, use these 5-easy tricks to make a dog-proof home. 
And with some safe toys, treats, water sources, and few comfort items like your scented T-shirt (Plain T-shirt – with no buttons and other decorative elements on it) can make your dog feel more comfortable.
You can also leave the TV or radio "ON" to distract your dog from focusing on noises outside the house. Leaving the radio on also helps a lot in entertaining your dog.
Use Pet Cam
A Pet Cam is excellent in terms of entertaining pets at any time from anywhere! I'm also using 2 of them, one in the kitchen and another in the living room since 2015, and it still worked like magic, and the product name is Furbo Dog Camera what a superb product. 
(Note: I'm not promoting any product, I only mention products that I personally used).
Furbo Dog Cam are the best toys to keep dog busy while at work (Best Gadget) that lets you keep an eye on your canine with 1080p streaming footage day or night with a 160-degree viewpoint.
Even with its user-friendly app, you can receive barking alerts on your mobile device, plus you can talk to your doggo and even toss them a treat from afar, and as well as you can also communicate with your dog through the Furbo Dog Microphone.
Create mental stimulation for Dogs Home Alone
Mental stimulation stuff can easily entertain your dog all day long. And there are plenty of things out there which you can use to make mental stimulation for your dogs.
Such as Pet Snuffle Mat, Puzzle Game, and Big cave beds, these kinds of Mental stimulation products are an ideal choice to keep your dog entertained while at work.
Cave beds are great for diggers; if your dog is a heavy digger, then there are 90% chances that he can spend his whole day digging in the bed.
Oppositely Pet Snuffle Mat and Puzzle Game are great options for those dogs who love to explore new things in their surrounding.
Experts also suggest giving Puzzle Game to your dog to increase his mental ability, especially if your dog spends most of his time inside the home.
Advice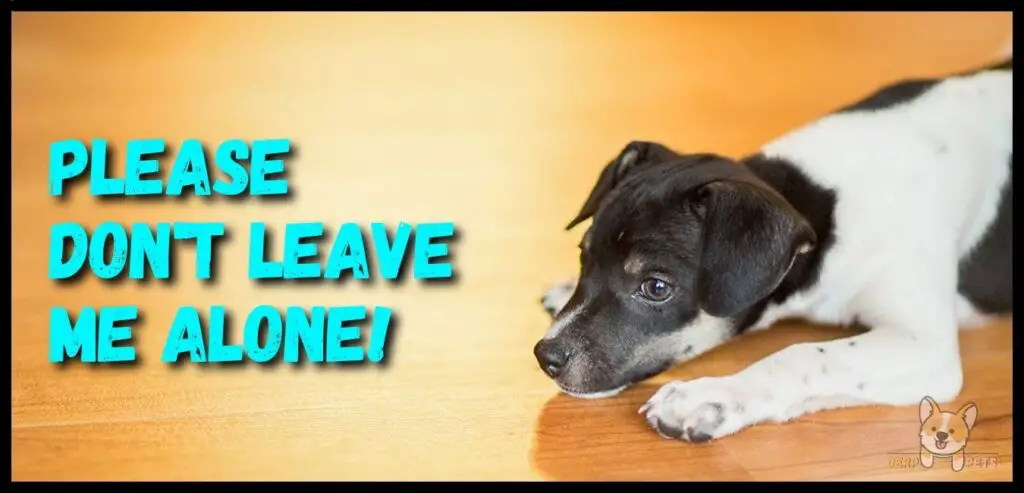 Tips or tricks and best toys to keep dog busy while at work is just a temporary thing that you can provide these days to keep them entertained; no doubt these tips and toys work pretty well.
But do you know how your dog feels when left alone at home (remember those school days when your best friend is absent, and you spend your whole day like a clown); that's the same feeling that your dog feels every day when you left him alone while you are at work. 
Loneliness can cause mental stress and separation issues in dogs! So to overcome this issue, you better adopt a new family member for your dog (means a new puppy or other pet), which will make your dog feel comfortable and cheerful even if you left him alone for long. A puppy can easily brighten up every buddy's mood, whether it's human or animal.
I hope this article about the best toys to keep dog busy while at work helps you to find the most suitable toy which will entertain your dog in your absence. 
Frequently Asked Questions
Q: How to entertain a dog home alone?
Ans: There are dozens of things that you can do to keep your dog entertained when home alone, such as provide some safe toys, especially mental stimulation toys, Hire a dog walker or daycare, use a pet cam, Make an ice cube filled with treats, or bring a companion (new puppy) these are the most common and easiest way to keep your dog entertained. 
Q: How to keep dogs entertained in yard?
Ans: There are plenty of things that you can do to keep your dog entertained outside, such as provide some reliable toys, large toys, Hire a dog walker or daycare, play tug and ware, use automatic fetch machines, Make an ice cube filled with treats, or bring a companion (new puppy), etc. These are the most common and easiest way to keep your dog entertained in the yard. 
Q: How to keep dog quiet when working from home?
Ans: Keep dog quiet while working from home is a little tricky, especially if you have a puppy, but still, here are some best ways that you can use to keep your dog quiet during work from home, Like ask your family to take care of your dog, Set up a quiet space for your dog to relax in a different room, provide some puzzle game to keep him busy, Dog-proof your home, plus you can also provide some kong toys filled with treats to keep him quiet for long. 
Q: How to keep dog entertained while working from home?
Ans: With some simple tricks giving puzzle games, Snuffle mats, quiet space for your dog to relax, Keep training sessions short but enjoyable, Kongs and lick mats, Allow your dog to have some cuddle time, these tricks are pretty enough for your dog to keep him entertained while working from home at the same time.
Q: How to keep dog entertained while at work?
Ans: The most common and best way to entertain your dog is a pet cam because, with a pet cam, you can easily watch your dog's activity, and even you can also communicate with him. And pet cams come with bonus features such as games and treat tossing that you can easily control with a user-friendly app from afar. Plus, you can also receive barking alerts on your mobile device whenever your dog barks.