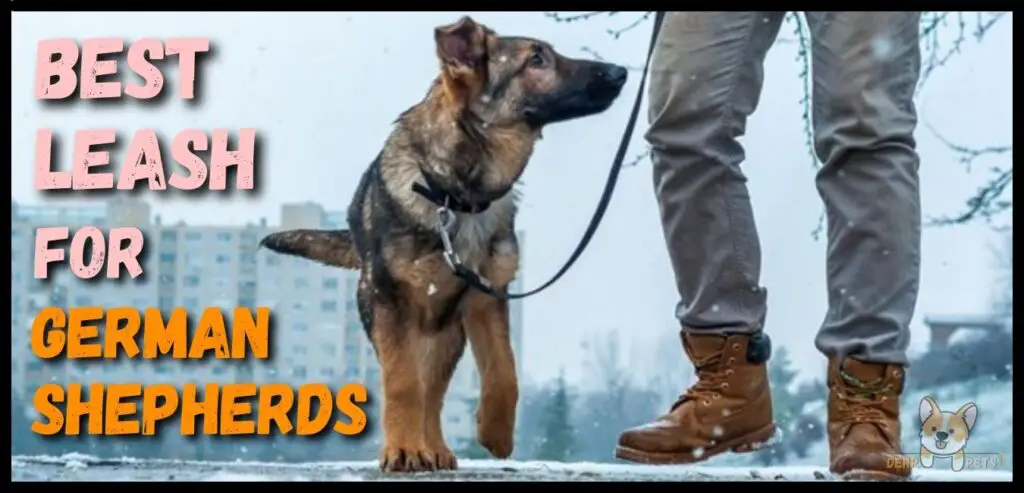 There are many different types of leashes available for each activity! But to keep it simple, I only listed the all-purpose best leash for German Shepherds that goes with any circumstances, which come during the daily walk or training of your dog.
As we know, German Shepherds can be a bit stubborn sometimes, where these durable leashes work like a charm.
The leash is among the most crucial safety accessories for all dogs, especially for great breeds like German Shepherds. I also have 8-dogs, and one of them is a 5-year-old German Shepherd (Cooper) to-keep him safe–I use strong leashes for him on a walk because he is a fast runner, which always makes me concerned about accidents. 
In this article, I have also concluded everything about leashes, such as leashes types, length, size, material, guide, and some other queries so you can purchase the best leash depending on your dog's requirements.
And if you want to dog-proof your entire home, here is the best trick – How to dog-proof home in 5 easy steps.
Here, The Best Leash for German Shepherds that lasts longer!
Best for Walking, Running, Camping, Hiking, Night Walks, Jogging, and even Training with your German Shepherds.
BAAPET Strong Dog Leash with Comfortable Padded Handle
It is one of the most durable and the cheapest german shepherd leash you could ever find on the market, I also have 2 of them since (2018) and both work pretty well.
The leash is made with a robust 1/2 inch diameter rock-climbing-rope and a very durable clip hook that keeps you and your dog safe. 
It is the 101% all-purpose leash for jogging, running, training, camping, and even hiking. The leash also has safety-reflective threads for enjoying walking with your dogs at night.
Plus, its hard plastic cover is much more durable & bite-resistant! BAAPET assure you this is the best leash for German Shepherds that pulls you should try! 
Double stitching
Reflective threads
Comfortable Grasp
Tangle-free and 360 Rotate clasp
Excellent Elite Spanker Bungee Dog Leash (Military Dog Leash)
This k9 bungee dog leash is made of high quality and durable material, which is lightweight and lasts longer. The leash is suitable for dog training or all daily life tasks.
It also has two handles, one handle at the end and one soft padded handle near the clip for better control. The leash has an elastic stretch that expands about 12 inches, which will reduce the risk of injury and increase comfort whenever your dog changes direction suddenly.
Its metal hook; can be attached to a dog vest or collar; it can withstand around 200 kg tensile after testing.
Plus, a rectangular metal buckle is used to adjust the length of the handle, clasped dog leash on your belt, or temporarily lock your dog on somewhere when you have to go away. This k9 bungee dog leash is perfect for large and medium-sized dogs as well.
Adjustable 
Easy Control
Nice and Lightweight
Soft Comfortable Handle
Max and Neo Double Handle Traffic Dog Leash Reflective
This double handle traffic dog leash has all the features of the top of the line dog leashes. It is 1-wide and made of 2mm thick but soft heavy duty nylon webbing designed to handle the largest dog breeds.
Its two padded soft neoprene handles. One is located 18 inches from the clasp. Great for when you need to keep your dog closer to you in traffic, obedience class, or around others.
The second padded handle at the end for comfort against the wrist and that also has a D-ring near the handle that is good enough to clip poop bags or other accessories.
The leash is Tough, Heavy Duty, Durable, Comfortable, with reflective stitching to improve your visibility at night that clearly gives you better control of your dog during walks.
Thick & strong material 
Very comfortable to hold
Easy to fold up for storing
Gunmetal finished quality metal
AUROTH Heavy Duty Bungee Best Leash for German Shepherds that pulls
This bungee design leash is made of heavy-duty Nylon material, which is a lightweight buckle with a large loading capacity that considerably improves tensile strength.
Use the top handle when walking, running, or jogging. Use the bottom handle on busy sidewalks, bike lanes, and crowded areas that require close control of your dog.
Its metal eye-splice and clip hook could beat extensive pulling force and attach a car seat belt to keep your dog safe in the vehicle while driving.
Plus, the leash has a bungee and soft handle to improve control and cushion eases the pressure for both the owner and the dog.
Lightweight
Soft handles
Excellent for all breeds
Durable and Sturdy material 
Heavy-Duty Dog Leash Especially for Large Dogs Up to 150lbs
This wear-resistant nylon 4ft-6ft bungee dog leash is sturdy and durable enough to withstand the pulling force of any Large dog breed.
The leash reduces the effects of pulling and makes dog walking a pleasurable moment in the park, especially if your dog is a strong puller.
It has two comfortable handles-1 located 18 inches from the carabiner, great for when you need to keep your dog closer to you in traffic or walking through the crowds.
The second padded handle at the end for comfort against the wrist, giving your dog the freedom to roam and explore its surroundings.
And it comes with reflective stitching on both sides to improve its visibility for making it a lot safer to use in dark or low light situations. Plus, a car seat buckle keeps your pet safely in the vehicle while driving.
Padded Handles
Zero Shock Technology
Durable-chewy resistant
Extra safety extra control
Primal Pet Gear Dog Leash Excellent for Both Large or Medium Dogs
This Primal Pet Gear dog leash with Blue Padded Handles has been specifically designed, with 2-handles, one at the end of the leash at 6ft and another 1ft from the clip to keep your beloved 4-legged companion safe at all times!
Plus, the leash has soft padding on both handles, so your palms will be comfortable even if your walk is longer than usual.
You can walk at a slow speed or even start running if the area is not crowded, so you can both get some exercise!
The leash is designed with top-quality durable but soft heavy-duty nylon material, which means you can easily use it as a training aid to control Dominance and Aggression as well. Ideal for large, medium, and even some small dog breeds.
Premium Quality
Soft Neoprene Handles
Tightly Woven Thick Nylon 
Heavy-Duty Rust Resistant Clip
Best leash for German Shepherds puppy
AMAGOOD Strong and Durable Traditional Style Puppy Leash 
This dog leash is very sturdy and durable, suitable for small, medium dogs, even for cats as-well. The easy-on, easy-off hook makes securing the little leash to your pet's collar or harness effortless.
Its soft and lightweight Non-absorbent material won't get more and more heavy in the water and won't sink if the dog leash will float when submerged and highly visible against any background.
Lightweight 
Easy to use
Comfortable handle 
Well made & nice-looking
TUG 360° Tangle-Free, Heavy Duty Retractable Dog Leash with Anti-Slip Handle
The 16 ft tape leash is suitable for puppies as well as dogs under 35 to 110 lbs. Its easy-adjust retraction has tangle-free 360 degrees tape movement.
Plus, its quick locks and unlocks feature easy roll-on and roll-off with your thumb. The leash also has a super comfortable grip for those long walks with its ergonomic anti-slip handle.
The components and design of the leash allow consistent retraction yet incredible strength when your dog pulls.
Build To Last 
Tough & Durable
Tangle Free Cable
Simple & Ergonomic 
Important points that you have to know about Best leash for German Shepherds before purchasing one.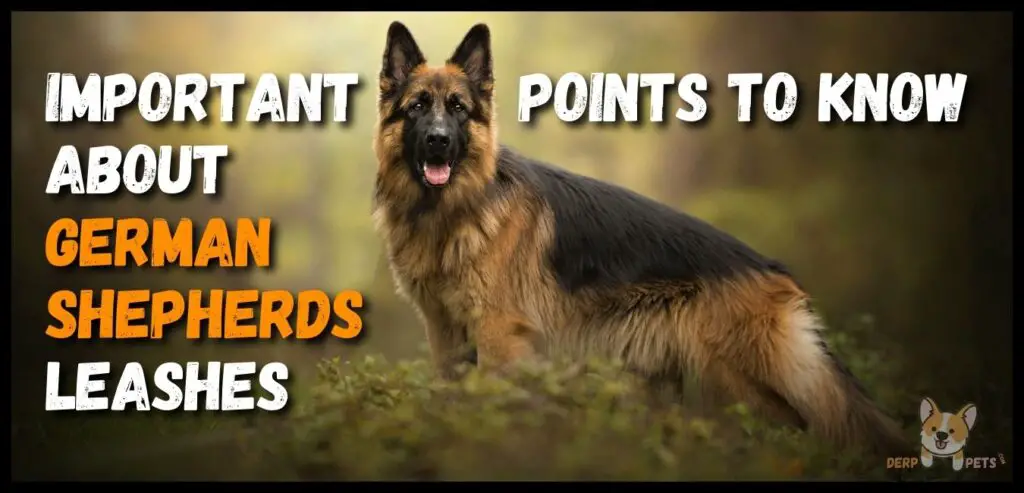 Leashes are the most needed thing to keep you and your dog safe from accidents. Here are some points that you should check.
Material
The strength and durability of a dog leash mostly depend on the materials used to construct it. The good and the most common material is nylon!
Because nylon is cheaper, lightweight, durable, strong, waterproof, kind-of chewed-proof, and easy to keep clean.
Although it is a-man-made fiber, it comes in different forms and colors, which means you can easily choose depending on your needs.
Convenience
Comfort is necessary for both you and your dog, as neoprene and fleece are the most known linings that you may find on a dog leash to make it softer. These materials did not hurt the dog nor the owner.
Reflectiveness
Little reflectiveness is a must-have thing in your dog leash, especially if you love taking your dog out for a walk at night and even early in the morning.
Reflectiveness helps vehicles spot you easily to avoid accidents. That's why most of the above mentioned leashes also have reflective threads.
Length
Six to four feet is the most common length for dog leashes and is ideal for walking in neighborhoods or less trafficked areas.
A 4-6ft leash allows your dog room to explore without leaving so much slack that the leash drags on the ground or gets tangled around your dog's legs or your own.
However, a very long dog leash would end up being troublesome, especially when walking in restricted areas.
What are the different types of best leash for German Shepherds are available that you can also use?
Adjustable Leashes
These leashes are pretty better for a german shepherd as-well-as for large breeds, for example, in some circumstances where you're going to want your large dog to be a lot easier to control, such as public places, or crowded areas, etc.
Unlike other leashes, an adjustable leash is conveniently adaptable thanks to the sliding clips attached to them. The sliding clips let you quickly and easily adjust the size from 3 to 6 feet long.
Fixed Leashes
These leashes give you a lot of control over any large breeds like German shepherds, especially in crowded areas, as fixed leashes typically come in 2, 3, or 4 feet in length that stay at one span and can't be adjusted.
Due to the shorter leash size, it's easier for you to constrain your German Shepherds when they start to pull. With these leashes, your dog is not able to go any further to attack other dogs.
Hands-Free Leash
These leashes are often made of soft nylon material, so the waist belt does not become abrasive. The Hands-Free Leash often comes with a pouch for storing keys, treats, doodie bags, etc.
Plus, its waist belt leaves your hands free while keeping your dog close to you.
The Hands-Free Leash commonly offers durable elastic which absorbs shock if your dog suddenly changes direction.
In these leashes, you and your dog can effortlessly move independently from each other as wishes while running, hiking, and even riding a bicycle.
Multiple-Dog Leash
These types of leashes come as a full leash with 2 or 3 connection points (adapter). Or you can also purchase an adapter separately that directly connects to whatever type of leash you already have. If you previously own a leash, connect the adapter, and you're good to go! 
An adapter is an excellent option if you have many dogs rather than buying a separate leash for each dog. I also use an adapter most of the time because I have eight dogs, and each dog is around 110 to 150 lb.
With an adapter, I can easily handle them without wrapping-5 or more leashes around my wrists. 
The adapter is compatible with most leash types such as standard, double-handled, retractable, and hands-free. All work well for every task like Jogging, Hiking, and even for Biking as-well.
Advice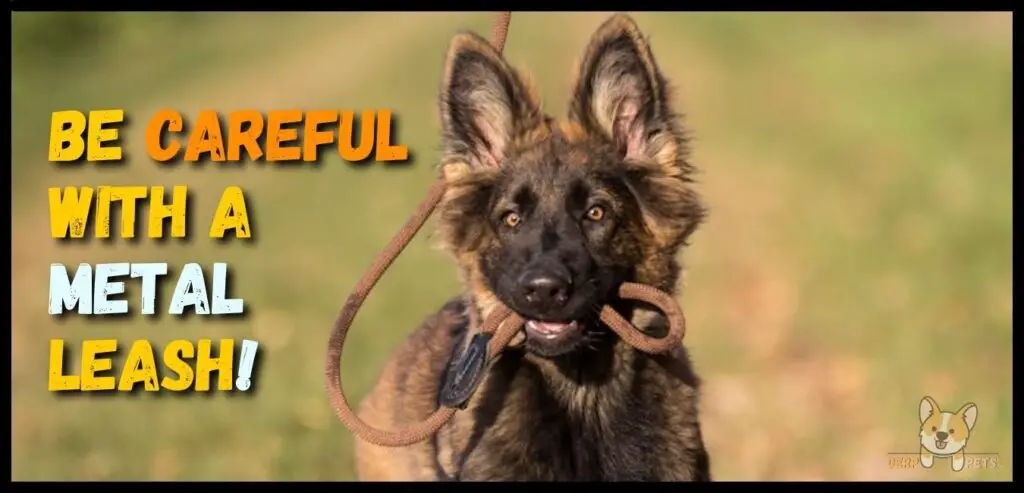 If your German Shepherd is a chewer, do not use any metal leash, as chewing on a metal leash can hurt/damage your canine teeth very poorly.
Above listed leashes are the best in all classes, I personally use four of them, and I never had an issue with any of these leashes.
And as well as these leashes have what you should look for in any leash; whatever you pick from the above list will be a great choice! With these leashes, you can also effortlessly potty train your dog in fewer days because I did it too.
I hope this article on the Best leash for German Shepherds will help you find a leash suitable for your German Shepherd dog!
Frequently Asked Questions
Q: What size leash for puppy is best?
Ans: The 5-6 feet is the ideal length for all breed puppies, whether they're large, medium, or small. 5-6 feet length gives puppies a little more place to potty and explore; if you want to provide more space to your dog, then an 8- to 10-foot-long leash will implement the correct combination of comfort, control, and freedom needed. As with any leash, you'll hold excess length in your hand. 5-6 feet is a perfect length for walking in neighborhoods, parks, and other less trafficked areas.
Q: Best leash length for recall training?
Ans: Expert trainers suggest leash length for recall training must be around 20 and 50 feet long. And the leash material should be a rope, nylon. On the other hand, experts also suggest not using any type-of retractable leashes! Because the retractable leashes aren't designed for training, these leashes are excellent for daily walks, especially for puppies or small dogs. 
Q: Can you wash a dog leash in the washer?
Ans: Yes, if your dog leash is made of rope or nylon material, then you can undoubtedly clean your dogs' leashes in the washer/washing machine. And make sure retractable leashes should never be washed in the washer, as these leashes come with a spring-loaded device housed inside a plastic case that can be easily jammed if soaked into the water for long. 
Q: Why does my dog bite the leash when walking?
Ans: Dogs usually do that when they need your attention because, during walks, no one pays attention to them that's why they chew on the leash to get some attention from you. To prevent them from chewing on the leash, candidly cheer up your dog occasionally during a walk. 
Q: Why do dogs pull on leash?
Ans: There are two common reasons why dogs pull; first, when they get excited, they want to explore everything very quickly, such as smell, sights, and sounds; second, when dogs pull, we also take one step forward, which gives a clear sign that pulling works that's why they pulled every time. Here is a simple way to prevent the dog from pulling; stop moving forward when your dog pulls and reward him with treats when he walks by your side. It's a great technique, but it takes some patience and time.