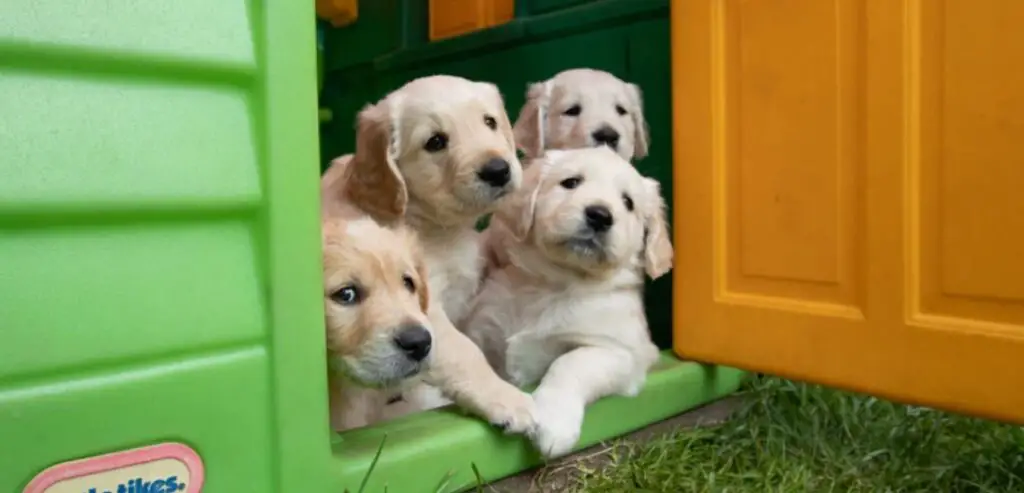 Owners often get stuck when it comes to considering a harness for their Golden Retriever. Because they don't know how to pick the right size and what to look for in the harness.
So to make it easy, here's everything you should know before choosing the harness for your Golden Retriever Puppy or Adults.
What Size Harness Good For Golden Retriever Puppies?
It depends on the puppy's size and age because the harness is always recommended based on the dog's "rib cage." Well, mostly smaller-sized harnesses are good for a puppy between 2 to 6 months of age, and then you can switch to a medium or large harness.
Smaller size harnesses are also pretty adjustable, which means they can be easily fit according to the puppy rib cage till 2 to 6 months.
However, most expert dog trainers and veterinarians don't recommend keeping puppies on a harness and leash until they are three months old.
While some suggest; it's good to keep them on a harness because it helps prevent the development of bad leash behaviors as some puppies can be stubborn during the walk.
Well, it's totally up to you whether you want to keep them early on the harness or not.
Golden Retriever Chest Size By Age
This chart shows the average size of the chest and the weight of the golden retriever by their age. But sometimes, the dog's size and weight also depend on how the puppy has been raised.
| | | | |
| --- | --- | --- | --- |
| Age  | Chest Size – Inch  | Avg. Male Weight lbs. | Avg. Female Weight lbs. |
| 7 Weeks | 11-12 | 9 | 9 |
| 8 Weeks | 11-13 | 11 | 10 |
| 9 Weeks | 14-15 | 13 | 12 |
| 10 Weeks | 15-17 | 15 | 15 |
| 11 Weeks | 17-18 | 17 | 17 |
| 3 Months | 18-19 | 23 | 22 |
| 4 Months | 20-22 | 33 | 30 |
| 5 Months | 23-25 | 42 | 40 |
| 6 Months | 25-26 | 52 | 44 |
| 7 Months | 26-27 | 59 | 45 |
| 8 Months | 27-29 | 61 | 52 |
| 9 Months | 27-29 | 61 | 52 |
| 10 Months | 27-30 | 63 | 60 |
| 11 Months | 27-33 | 66 | 65 |
| Adult | 27-35 | 68 | 70 |
How To Choose A Harness For A Golden Retriever Puppy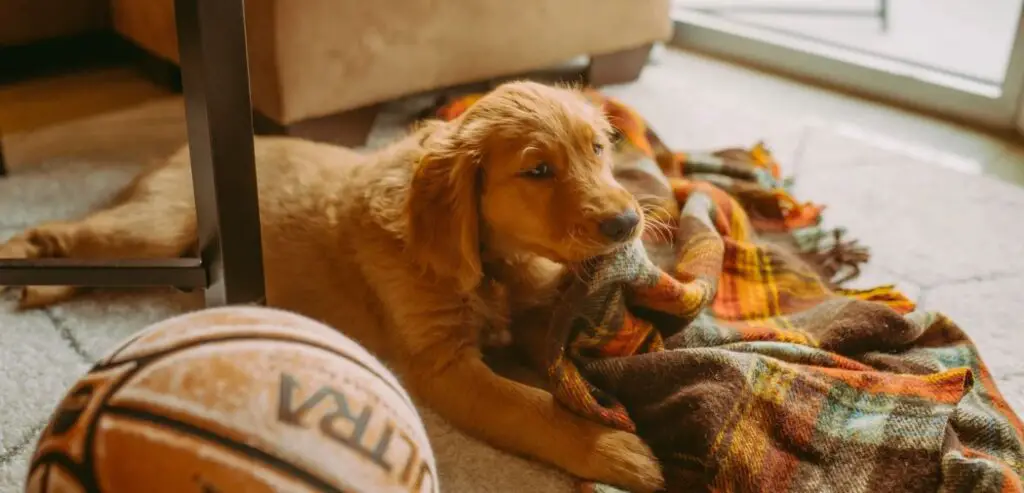 Selecting the correct harness for the golden retriever puppy can be a tricky task for those people who are complete beginners.
Here are some essential points that every owner should consider when purchasing the harness for their beloved one.
Measure Your Golden Retriever For A Harness
It is one of the most important steps that owners should take, no matter whether your golden retriever is in puppyhood or adulthood. 
Just measure the fullest part of your doggo chest behind their front legs, and make sure whenever you measure your dog chest, they must be standing on a flat surface. "Little difference matters the most."
After measuring your golden retriever chest, you can also check their size in any 'size chart' for better understanding. 
Once you determine that, and the size showing somewhere between small and larger sizes, consider the large one, as it will be more suitable for your puppy. 
Quality Material
Material is something you must look into whenever you buy harnesses, collars, leash, bandanas, etc.
First of all, always use padded harnesses because the padded harness allows complete comfort to wear that wouldn't hurt your goldie during any activity, whether it's playtime, training, daily outdoor walk, jogging, and any outdoor recreations.
The harness must be made of breathable and lightweight material.
If the material isn't breathable, it can cause skin irritation and itchiness, which can be pretty irritating for dogs with a long coat.
Breathable material circulates the airflow throughout the dog's chest to help the dog stay dry and cool all the time.
Plus, a lightweight harness helps your puppy feel light and airy whenever she wears the harness.
And one more thing, make sure the material is also chew-proof, as some puppies can be heavy chewers, and they don't feel shy to chew on anything (means ANYTHING!!).
Customizable
It is always good to use harnesses that can be easily adjustable according to the needs of your golden retriever.
A Customizable harness allows perfect fit along the belly and chest area and back, which is essential for the dog that pulls a lot during the walk.
Basically, a well-fitted harness helps to keep the puppy or adult dog in control to prevent any mishappenings in a crowded place.
Even most of the customizable harness comes with enough room to adjust so that you can easily adjust its straps months after months till your puppy's puppyhood without even worrying about spending another dollar on the harness.
Puppy Behavior
Golden retrievers are a High-energy sporting breed, and that sporting instinct sometimes encourages them to chase moving things on walks, and it can be anything like a ball, squirrels, etc.
Hence if you know the behavior and temperament of your Golden pup, it will help you get the best harness for them.
This means if our golden pup pulls a lot, then you can use anti-pull harnesses. These harnesses are typically known as Front Clip Harness.
With these anti-pull harnesses, your pup can quickly learn not to pull on the leash.
On the other hand, if the pup has a good temperament, you can use the regular harness.
Safety Features
Never give safety a day off! So make sure you always check the harness's durability.
The harness's D-rings, O-rings, and buckles must be made of rustproof solid metal rather than some cheap quality plastic because golden retrievers are strong pullers, and plastic rings can be easily breakable if they pull.
And look for harnesses whose straps are made of a thick and durable material like polyester and nylon.
Avoid using harnesses that are made of a material like fabric and rubber for adult golden retrievers as these materials aren't strong enough to keep them safe and secure.
However, you can use fabric harnesses for puppies, as they are not strong pullers.
Whenever I purchase a new harness for my dogs, I always check these two things, metal buckles and durable straps, because that isn't a choice; it's a complete need.
Attachment Points For Leash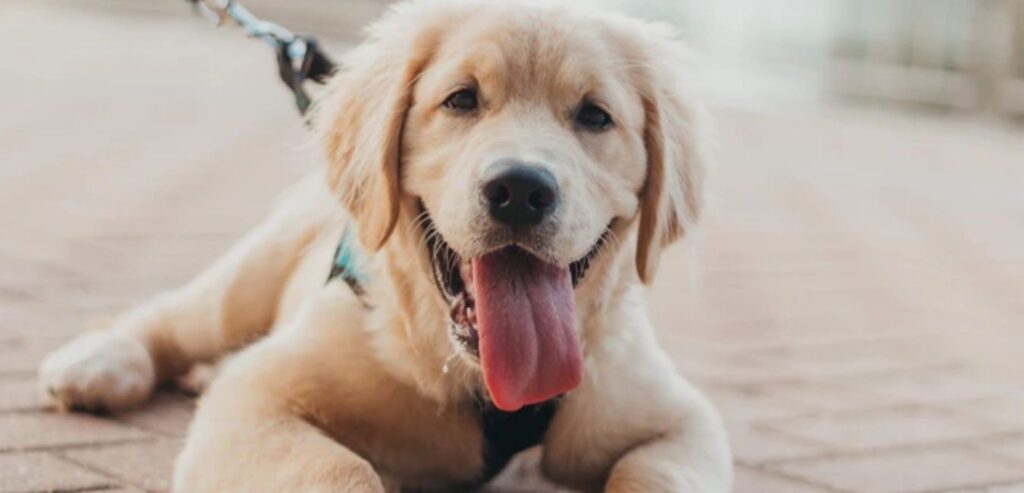 Selecting harnesses according to their attachment points depends on your golden retriever's temperament.
Typically harnesses come with two attachment points, either at the front clip near the chest or the back clip.
So in case, your goldie is a heavy puller, you can go with the harness that has a front attachment point that helps prevent any pulling action.
While if your goldie has a calm temperament, you can choose a harness with a back attachment point.
However, many harnesses come with dual-clip attachment points both back and front.
And I prefer using the harnesses that have dual-clip (both front and back attachment points) as there isn't any variation in the value, and you can use it as per your needs.
I use them too for each of my dogs.
Ergonomic Design
Pick the harness that slips on or off your puppy in seconds.
Usually, the harness comes in two designs, either step-in design or overhead design.
The step-in design is the one where your puppies have to put their front legs into it to wear. While in the overhead design, you have to pull the harness over your puppy's head to keep it in place.
Both of the harnesses are pretty easy to take on or off on puppies or adult golden retrievers.
But step-in harnesses come with little risk of slipping over the puppy's head; but, it only happens when the harness is loose for the pup.
So choose the one that eases you the most.
Easy To See, Day And Night
This is another safety-related matter for your four-legged friend!
Harnesses that have highly reflective strips are excellent to use at night time or early in the morning.
People who live in the tropical region often prefer to walk with their puppies either at night or early in the morning due to high temperatures.
That's where the high contrast and high visibility of the harness help them to keep their puppy and adult dog safe from misfortune.
So whether you pick a dual-clip, step-in, overhead, or adjustable harness, just make sure it has highly reflective straps for added safety.
Harnesses According To The Age Of Golden Retriever (Puppy To Adult)
Below listed harnesses aren't some kind of review ('best this' and 'best that'). These harnesses are the perfect match for each stage of the golden retriever's life, from puppyhood to adulthood.
Note: You don't have to use harnesses, collars, training leashes for a 7 to 8 weeks old golden retriever puppy.
For The Golden Retriever of 9 To 11 Weeks
Voyager Step-in Air Dog Harness
Soft and Breathable Material
Lightweight 
Reflective strips
Simple and easy-to-wear
Double durable back metal D-rings
For The Golden Retriever of 3 To 7 Months old
Rabbitgoo No-Pull Pet Harness
Durable nylon oxford material
Fully Customizable
Breathable, padded as well as Lightweight 
Easy to put on and take off 
Bright Reflective Strips
Metal dual-clip (both front and back leash attachment clips) 
From 8 Months To A Full-Grown Golden Retriever
BABYLTRL Big Dog Harness
Premium nylon oxford material
Easy to put on and take off
Reflective straps 
Fully Customizable
Sturdy, handy handle for control
Breathable, padded as well as Lightweight 
Durable metal dual-clip (both front and back)
These harnesses are good, and I use them too for 8 of my dogs.
Harness, Collar, Or Training Leash: What To Pick
Harnesses are the best option for all puppies and also for small dog breeds, such as Pug, Pomeranian, Chihuahua, Shih Tzu, and more.
However, a collar with ID tags is a must-have for any dog owner, whether you have a puppy, adult dog, or small dog breed, as this is the most basic way to locate your dog if he gets lost.
But connecting a leash with a collar during outdoor strolls isn't a good idea because collars add too much pressure on the puppy's neck, which isn't good for growing puppies as pressure on the neck can cause neck injuries.
Even though some collars are lightweight and soft, they are not the best choice to connect with a leash during walks.
On the other hand, training leashes are OK to use if your puppy isn't well trained for 'not to pull on the leash.'
In the end, just go easy on your puppy.
Related Posts